During the mid 1990's a separate charitable trust was established by the Friends in order to purchase Plas Glyn y Weddw. This was made possible by a National Lottery grant. It is this independent charitable trust that has been responsible for the day to day running of the Plas since 1996.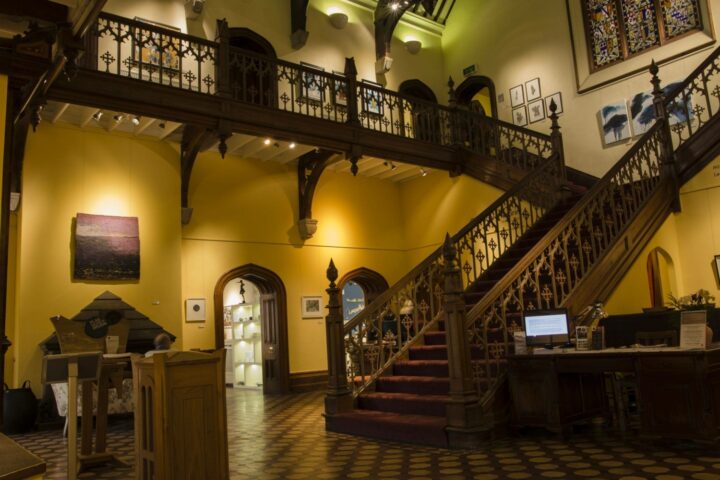 Over the last quarter of a century, the vision and hard work established by Gwyneth and Dafydd ap Tomos has been the driving force for the charity that runs the Plas today. Plas Glyn-y-Weddw is now much more than an art gallery; it's an arts and heritage centre of national importance, fusing art, nature and culture through a wide range of activities.
One of the most important developments in recent years was the purchase by the charitable trust in 2008 of the adjacent 12-acre woodland known locally as Winllan. The woodland was initially part of the house's original gardens but was not transferred in the sale to Gwyneth and Dafydd ap Tomos in 1979, and thus left out of the later transfer to the charitable trust in the 1990's.
However, in 2008, an opportunity arose during an informal conversation between Ken Macmaster and Plas Director Gwyn Jones, for the charity to purchase the woodland and once again manage the site as part of the center's attractions.
Over a £1m has been invested in clearing invasive species, opening up a network of walking trails (which form part of the All Wales Coastal Pathway) and developing a new eco-car-park and outdoor theatre, named after the late John Andrews, who was a great supporter of the Plas.
The success of the woodland developments in attracting a greater number of visitors to the Plas quickly led the trustees to realise that the former cafe and facilities were no longer fit for purpose. As a result, between 2019-2022 a £1.5m develpment led to the construction of a brand new sculptural cafe on site which has since won national awards for its design. https://www.oriel.org.uk/en/ne...
Plas Glyn-y-Weddw now attracts over 140,000 visitors annually and is a popular destination among local people as well as visitors from all over the world.
In 2023 Plas Glyn-y-Weddw was recognised for its developments over the last 20 years by the Arts Council of Wales and made a revenue client for the first time. This exciting development will lead to greater opportunities for artists at Plas Glyn-y-Weddw in the future. The centre has also been chosen as one of the 9 satellite venues across Wales for the groundbreaking National Contemporary Art Gallery for Wales. This disperesed model of sharing and showcasing the nations contemporary art collections will give access to people across Wales to our national treasures.